All our underwater films you can find on our Video On Demand page on Vimeo. You can buy or rent our films and even license them for commercial use. Here you can find the Frequently Asked Questions about our films on the Vimeo VOD page.
Underwater Wonders
Underwater wonders is a relaxing underwater film showing the worlds most adorable underwater creatures. Follow gentle Manta rays gliding through the deep blue ocean, enjoy playful dolphins and colorful Clownfish.
Seahorses and turtles are featured as well in our underwater film and breathtaking coral reefs in beautiful colors. The movie is an hour long and comes in Full HD quality. We also included extra movies in 4K which show steady coral reefs
filmed for an extended time.
You can buy "Underwater Wonders" on our VOD page (Video On Demand) at Vimeo.
Moalboal located on the island Cebu in the Philippines offers beautiful landscape and fantastic coral reef.
Beautiful underwater footage shows healthy corals reef including enormous table corals and colorful soft corals. From sharks to macro subject you will see all the marine life the area has to offer including magnificent night diving scenes. You can buy "Dive Moalboal" on our VOD page (Video On Demand) at Vimeo.
The Coral Reef
The coral reefs, often called "rainforests of the sea", are some of the most diverse ecosystems on Earth.
Consisting of hard- and soft corals they are an impressive sight and beautiful beyond imagination.
They provide shelter for a big array of reef fishes and invertebrates. Enjoy our colourful coral reef movie and all it's inhabitants including graceful turtles and bizarre frogfishes. Be amazed by the creatures of the night on a beautiful night dive. All filmed in 4K Ultra High Definition.
You can buy "The Coral Reef" on our VOD page (Video On Demand) at Vimeo.
Diving Paradise Maldives
Coconut palm trees and beautiful manta rays are symbols of the Maldives, including more than a thousand islands. Grouped into low atolls in the Indian Ocean, only a few of theses islands are inhabited. The Maldives have flat white sandy beaches and excellent coral reefs with an abundance of marine life. On this underwater movie we show all the inhabitants of the Maldives marine life including sharks, manta rays, eagle rays, trevally, black snappers, grouper, schooling bannerfish, large moray eels, squirrelfish, soldierfish and colorful leaf fishes. You can also expect breathtaking scenes from the Maldives underwater topography with magnificent rock faces, numerous caves, steep drop offs and precipitous overhangs.We added two extra movies which feature the highlights of the Maldives, the magnificent manta rays and the many different sharks. You can buy "Diving Paradies Maldives" on our VOD page (Video On Demand) at Vimeo.
Dive the Bahamas – Sharks at Tiger Beach
And experience the big sharks at Tiger Beach. Diving the Bahamas at Tiger Beach is a thrill of a lifetime, you will be surrounded by big sharks including bull sharks, lemon sharks, sand tiger shark the elusive great hammerhead shark and the king of all tropical sharks the tiger shark. In this  25 minutes film we show all these sharks in breathtaking pictures with different editing styles, fast action, monochrome, slow motion. You can buy "dive the Bahamas" on our VOD page (Video On Demand)  at Vimeo.
Beneath the waves – A journey through philippine waters
Is a fantastic journey through Philippine waters waters. On our underwater journey through the Philippines we encounter majestic whale sharks, discover the world heritage site Tubbataha Reefs and it's untouched coral reefs and splendid marine life including many reef sharks. We will visit the famous Moalboal sardine run and feature our world famous hunting thresher shark footage. You can buy "beneath the waves" on our VOD page (Video On Demand) at Vimeo.
Nightvision – A magical night dive
Takes you on a magical night dive an lets you discover amazing creatures from the worlds ocean. We show sharks and rays patrolling the reefs in the Maldives, hunting lion fish from the Red Sea, amazing corals and creatures floating through the black waters far away from the coral reefs. For this film we used special editing techniques to make the viewing a magical experience.You can buy "Nightvision, a magical night dive" on our VOD (Video On Demand) at Vimeo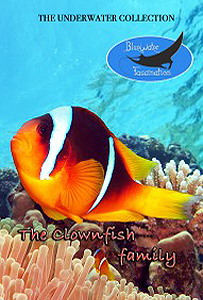 The Clownfish family
Is a beautiful relaxing film showing the most colorful and adorable fish family of the ocean. Filmed on locationin the Philippines, the Maldives, the Red Sea and the Island of Palau where you can find these colorful anemonefishes swimming through the tentacles of their anemones and giving the coral reef it's magical touch. We also have featured the most famous family member "Nemo" the Clownfish. Thsi anemonefish member is easily recognized by it's striking orange color and is the star of all the anemone fishes. You can buy "The Clownfish family" on our VOD (Video On Demand) at Vimeo
Dive Palau – One of the seven underwater wonders
 is a fantastic film showing the truly amazing experience of the Island of Palau, including sights of majestic Manta rays, grey reef sharks, white tip reef sharks and many pelagic reef fishes. All of these wonderful animals and many more are featured on our underwater film Dive Palau. We also included the famous helicopter ride through the rock islands, world war 2 relics on Palau island and the all famous jellyfish lake featured in our main film and as an extra short film. You can buy "Dive Palau" on our VOD page (Video On Demand)  at Vimeo.